Book Title: The Iron Traitor (The Iron Fey #6)
Genre: YA Fantasy
Pages: 352
Author: Julie Kagawa
Date Published: 29 October 2013
Synopsis:

IN THE REAL WORLD, WHEN YOU VANISH INTO THIN AIR FOR A WEEK, PEOPLE TEND TO NOTICE

After his unexpected journey into the lands of the fey, Ethan Chase just wants to get back to normal. Well, as "normal" as you can be when you see faeries every day of your life. Suddenly the former loner with the bad reputation has someone to try for—his girlfriend, Kenzie. Never mind that he's forbidden to see her again.

But when your name is Ethan Chase and your sister is one of the most powerful faeries in the Nevernever, "normal" simply isn't to be. For Ethan's nephew, Keirran, is missing, and may be on the verge of doing something unthinkable in the name of saving his own love. Something that will fracture the human and faery worlds forever, and give rise to the dangerous fey known as the Forgotten. As Ethan's and Keirran's fates entwine and Keirran slips further into darkness, Ethan's next choice may decide the fate of them all.
Review: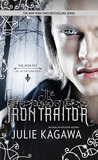 The Iron Traitor
by
Julie Kagawa
My rating:
5 of 5 stars
This is the second book in the Call of the Forgotten trilogy, but the sixth book in The Iron Fey series. I absolutely loved it!
Ethan Chase is a fantastic character. I really liked him when I first met him as a frightened four year old when he was kidnapped by The Iron King and taken into Faery in the first book of the series. Now he's seventeen and he's grown up into a wonderful young man. He is determined to live a normal life but, when his nephew Keirran goes missing, Ethan finds himself being swept into another dangerous adventure.
I have become addicted to this series. I started reading this book as soon as I had finished reading The Lost Prince and didn't put it down until I had finished it.
I enjoyed meeting all of the previous characters again: Grimalkin, Puck, Meghan, Ash, Leanansidhe, Razor and Kenzie. The reader is also introduced to some new characters, one of them being the Thin Man, who is the mayor of the town of the Forgotten. He is determined to restore the balance, which was disturbed when Ash and company travelled through it when going to the end of the world to win his soul years before. The forgotten are growing stronger under the leadership of The Forgotten Queen and the outcast and half-breed fey in the human world are disappearing. Meghan is concerned and asks Ethan to investigate what's happening. What he discovers will have serious consequences for both the human world and the land of Faery if he is unable to stop a prophecy from coming true.
This story is again full of action, adventure, danger and romance. There are a few twists that I didn't see coming and a couple of shocks too. I love the witty dialogue between the characters and the vivid storytelling brought this book to life. I could picture the scenes in my minds eye with ease. In fact, I didn't feel like I was reading at all but watching a movie. As the story unfolded I found myself on a roller coaster ride of emotion and had tears streaming down my face on more than one occasion, as well as sitting on the edge of my seat at others. I reached the end of the book in a state of shock and disbelief. I have a love/hate relationship to cliffhangers but I can't wait to read the last book in the trilogy, The Iron Warrior, as soon as I can.
Julie Kagawa has written a fantastic Young Adult series. I love her writing style, which is fast paced and exciting. The flow was also wonderful, as each scene moved effortlessly into the next. She has found a firm fan in me and I will definitely be reading more of her books in the future.
Although there are no scenes of a sensual nature, there are scenes that are violent or a little gory. Therefore, I do not recommend this to readers under 15. However, I highly recommend this book if you love YA fantasy or paranormal romances. - Lynn Worton
View all my reviews
About The Author:
Julie Kagawa, the New York Times bestselling author of the Iron Fey and Blood of Eden series was born in Sacramento, California. But nothing exciting really happened to her there. So, at the age of nine she and her family moved to Hawaii, which she soon discovered was inhabited by large carnivorous insects, colonies of house geckos, and frequent hurricanes. She spent much of her time in the ocean, when she wasn't getting chased out of it by reef sharks, jellyfish, and the odd eel.
When not swimming for her life, Julie immersed herself in books, often to the chagrin of her schoolteachers, who would find she hid novels behind her Math textbooks during class. Her love of reading led her to pen some very dark and gruesome stories, complete with colored illustrations, to shock her hapless teachers. The gory tales faded with time (okay, at least the illustrations did), but the passion for writing remained, long after she graduated and was supposed to get a
real job.
To pay the rent, Julie worked in different bookstores over the years, but discovered the managers frowned upon her reading the books she was supposed to be shelving. So she turned to her other passion: training animals. She worked as a professional dog trainer for several years, dodging Chihuahua bites and overly enthusiastic Labradors, until her first book sold and she stopped training to write full time.
Julie now lives in Louisville, Kentucky, where the frequency of shark attacks are at an all time low. She lives with her husband, an obnoxious cat, an Australian Shepherd who is too smart for his own good, and a hyper-active Papillion.
Author Links: